portobello mushroom primavera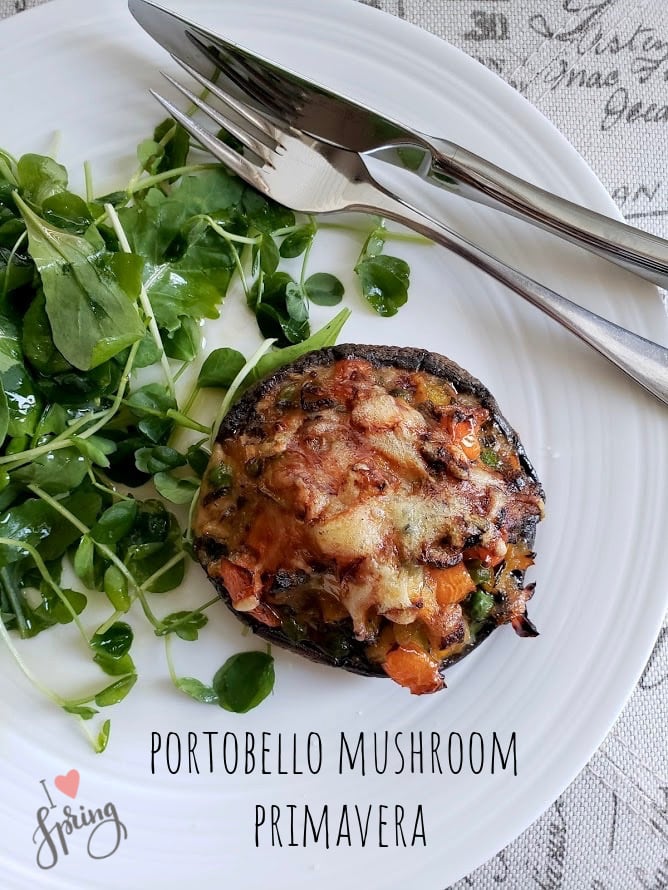 When one lives in a geographical location with four distinct seasons, Spring is the one I look forward to the most.  It signals a time of rebirth and a hint of what lies ahead…warmer weather and longer days equals more time spent outdoors.  Spring officially began in Canada on March 20th.  The weather in the Maritimes is a mixed bag; one day the mercury is up and the next it's down.  Generally speaking, though, things get a bit warmer towards the end of April. However, I'm feeling the Spring itch (nothing to do with allergies) and all it took was spotting a bag of shelled peas…primavera wrapped up in plastic!  Instead of making pasta primavera, which by the way has its origins in a summer home in Nova Scotia back in 1975, I chose to use portobello mushrooms.
Primavera means spring and a typical pasta primavera would include vegetables such as peas, broccoli, tomatoes, and asparagus.  Use this as a guideline and cook vegetables that look pretty together; think of the colors in a rainbow.  Add the vegetables to your choice of pasta or stuff portobello mushroom caps and bake in the oven.  The recipe I am about to share with you is a cinch to make and you can easily adjust the veggies used to suit your own tastebuds.
portobello mushrooms, stems removed and gills scraped off using a spoon
shelled peas (about 1/2 cup)
bell pepper, chopped (about 1/2 cup)
small zucchini, chopped
1 to 2 cloves garlic, minced
1 tomato, seeds removed and chopped
grated cheese (mozzarella, parmesan or gruyère)
Preheat oven to 375f.  In a frying pan over medium heat, add a splash of olive oil.  Add zucchini, peas, and bell pepper.  Stir and cook until al dente.  Add garlic and tomato.  Cook until garlic is fragrant then remove from heat.  Place mushroom caps on a parchment-lined baking tray.  Add a pinch or two of grated cheese then top with vegetable filling.  Add more cheese to the top and bake in the oven for 30 minutes.
The Culinary Chase's Note: I added coconut cream (about 2 tablespoons) to the vegetable filling as it cooked.  This made for a creamier filling. Use double cream if you like.  Enjoy!