Baked Feta with Tomatoes and Peppers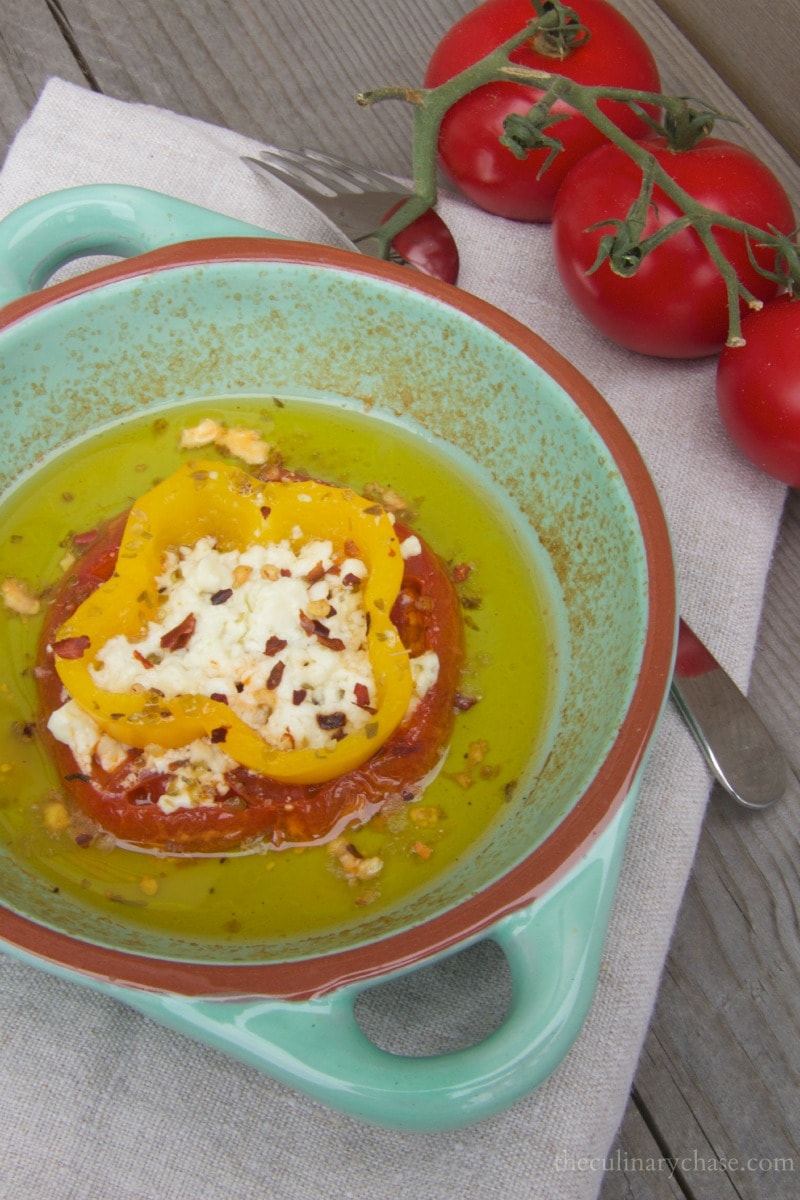 Vacations are often a perfect reminder of food we've enjoyed. I can't believe it's been 5 years since we were in Greece (sigh)!  Greece, with 227 inhabited islands, is one of those vacation spots we couldn't get enough of – the people, architecture and of course, the food.  When John and I go out to eat, we usually share a starter otherwise we'd be too full to enjoy the main meal.  Greece is one of the Mediterranean countries where the meze reigns (little plates).  Meze is meant to complement and enhance the taste of the drink as well as a perfect setting for a social gathering…right up our food-philosophy alley!  These little plates allowed us to sample the many culinary delights of Greece.  Baked feta with tomatoes and peppers takes little effort to make and these simple ingredients are mouth-watering delicious!
inspired by The Country Cooking of Greece
tomatoes, cut into thick slices
olive oil
sea salt and pepper
red pepper flakes
oregano
feta cheese, crumbled
bell peppers, cut into rings
Preheat oven to 425f (220c).
Add a splash of olive oil in oven-proof dishes. Place tomato slices evenly in each dish and season with salt and pepper. Drizzle with olive oil and evenly top with feta cheese. Top with a pepper ring and a pinch of oregano. Cover dishes with tin foil and bake 30 minutes or until vegetables are soft.
Remove foil and sprinkle with red pepper flakes.
The Culinary Chase's Note: Serve immediately and use bread slices to mop up the juices. Enjoy!