Sea Bass En Papillote with Tangerine and Grapefruit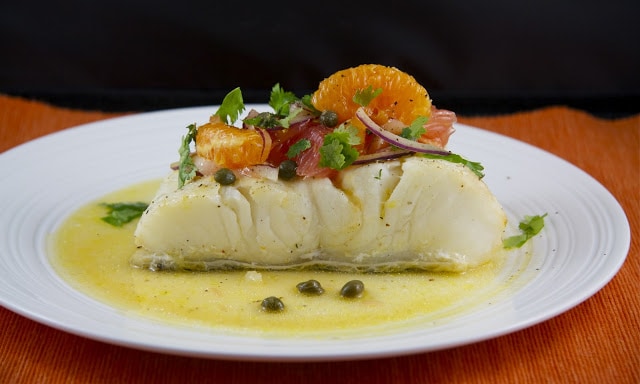 Sea bass (aka Patagonian Toothfish) is a gastronomical delight with its buttery, melt-in-your-mouth flavor. And for this reason, it needs very little in the way of preparation to taste good!  The firm texture of the meat makes it a perfect candidate for roasting or grilling.  For the citrus relish, I opted for the Satsuma oranges instead of the tangerines as Whole Foods just received a shipment and they looked so fresh with the leaves still attached it was hard to resist.  The Satsuma orange (originally from Japan) is very easy to peel, sweeter-tasting and no seeds.  If you like this recipe, then you may also like: Roasted Chilean Sea Bass with Tomato and Lemon Grass Broth.
Serves 4
adapted from Bobby Flay
Citrus Relish:
3 cups fresh tangerine juice
honey
2 tablespoons aged sherry vinegar
Pinch of chile pepper
1/2 cup extra virgin olive oil
salt and freshly ground black pepper
1 cup tangerine segments
1/2 cup ruby red grapefruit segments
1/4 cup thinly sliced red onion
2 tablespoons capers, drained
parsley leaves
chervil leaves
Sea bass:
2 large sheets parchment paper, cut in half and each half cut into a heart shape (papillote)
4 6-ounce sustainable sea bass fillets, skin on
olive oil
salt and freshly ground black pepper
8 sprigs fresh thyme
Place tangerine juice in a medium saucepan and reduce to ½ cup over high heat. Add honey to taste. Let cool. Combine 3 tablespoons of the reduced tangerine syrup, the vinegar, chile pepper, salt and pepper in a small bowl, slowly whisk in the olive oil until emulsified. Combine the tangerine, grapefruit, onion, capers in a bowl, add a few tablespoons of the tangerine vinaigrette and the chervil and parsley.
For the sea bass, preheat oven to 230c (450f). Place each fish fillet in the center of each piece of parchment paper. Drizzle the fish with oil and season with salt and pepper on both sides. Top each fillet with 2 sprigs of thyme. Seal the package and bake on baking sheets until puffed and browned and fish is just cooked through, about 8 minutes. Remove the fish carefully from the packages (or open and serve in the paper) and drizzle with the vinaigrette and top with the citrus relish.
The Culinary Chase's Note

: So delicious and the flavors enhanced with the citrus relish. I was lazy and didn't reduce the juice as indicated…a thinner sauce but that didn't seem to stop us from devouring the fish!  Enjoy.


Nota bene:  A reader of my blog sent me a message to bring to my attention that sea bass is an endangered species and to substitute with a sustainable sea bass instead.  This I knew and is the reason

I bought the fish from Whole Foods who

source as much sustainable seafood as possible. They were the first U.S. retailer to offer Marine Stewardship Council (MSC)-certified seafood in 1999 and each year they continue to offer customers more and more MSC-certified seafood options.  I have added the word "sustainable" in the ingredient list for edification.  Thank you Mary Catherine.