baked brie with onion jam – make it tonight!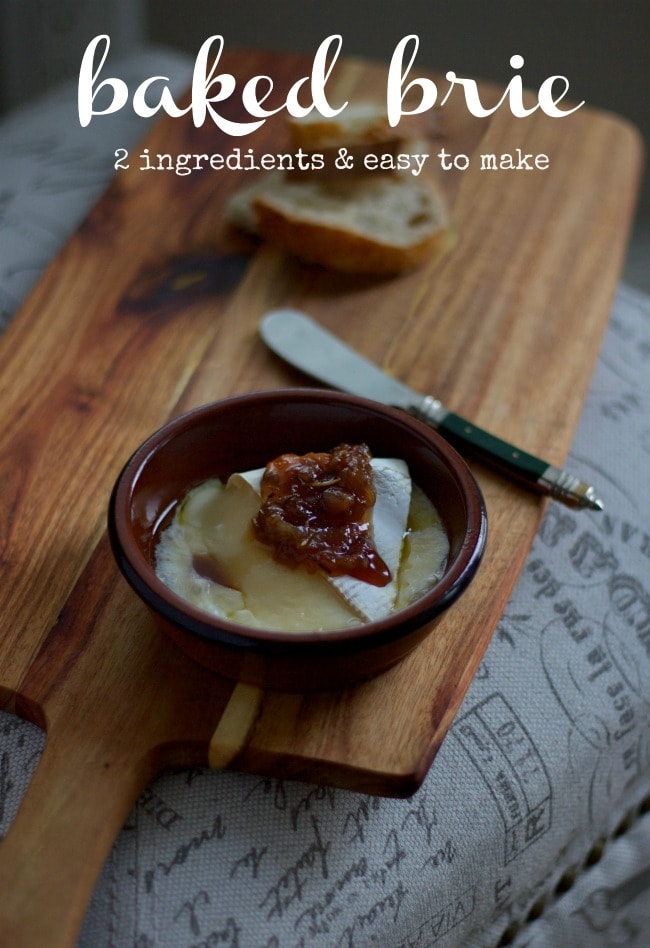 I am not mathematically inclined, but I do like to figure out how things work and have always had an inquisitive mind.  If a shortcut works, well, I'll take that route.  It stems from childhood.  When a problem arose, I would try to sort it out on my own before approaching my parents. I would come up with a solution and present it to them.  They may not have always liked what I came up with but at least it was there for them to say yea or nay.  That thought process has helped me with many situations I've encountered along the way.  Sometimes, though, I don't always see the answer but when I do I am pleased as Punch.  Take for example, the other day I had a small chunk of brie leftover and was trying to make it into something more than just a slice of cheese (glamorize it, somehow).  Looking inside the fridge I saw the jar of onion jam from Birdies Bread Co. and the idea struck me to use it with the cheese.  Baked brie softened just enough for the cheese to start to collapse and top with a spoonful of onion jam.  I was chuffed!
I love it when simple ingredients shine and this recipe couldn't be easier to make!
brie
onion jam
Preheat oven to 350f (180c).  Cut cheese into 2-inch triangles and place in a heat-proof vessel.  Bake 10 minutes or until brie begins to soften.  Remove from oven and place on a plate or small cutting board.  Top each brie triangle with onion jam or your favourite condiment such as bacon jam, chutney, salsa or tomato jam.  Serve with crackers or fresh country bread.
The Culinary Chase's Note:  Add a teaspoon of extra-virgin olive oil to the bottom of the heat-proof vessel before adding cheese.  Mop up any juices from the baked brie with chunks of bread.  Enjoy!