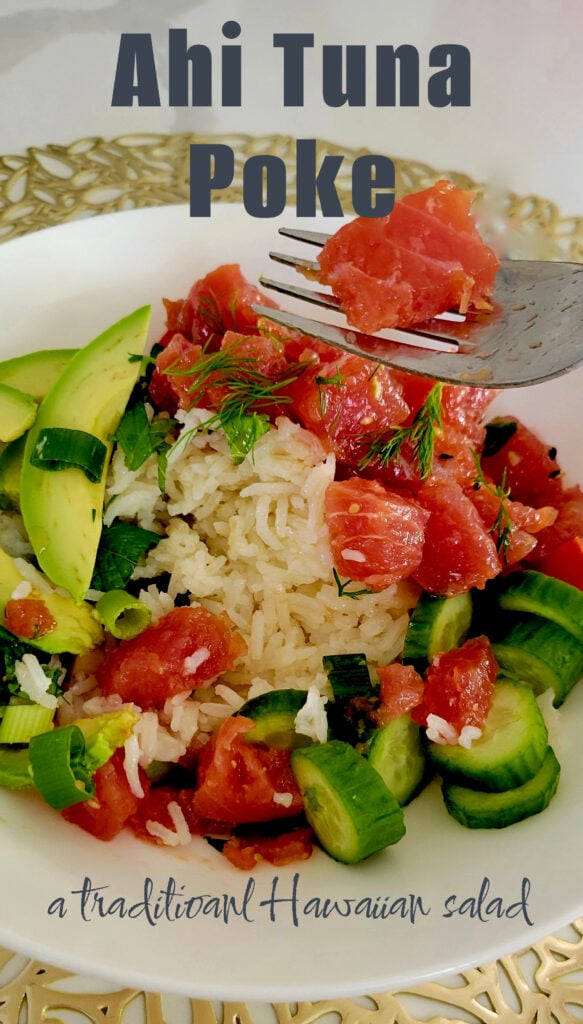 Raw seafood may not be at the top of everyone's food list.  But, if you enjoy sushi, then you're gonna LOVE a tuna poke bowl.  This Hawaiian dish is a cinch to make and you can add veggies you enjoy the most.  Poke (pronounced POH-keh) in Hawaiian means to slice or cut something.  Poke has been around for centuries and was prepared by native Polynesians. It's chunks of raw marinated fish, usually tuna, and placed over cooked rice with vegetables.  It's a new generation of sushi. 🙂  The beauty of this dish is that you can add just about anything that tickles your tastebuds.  Season the poke bowl with items you most probably already have on hand (soy sauce, sesame oil, rice vinegar, mayonnaise).
I purchased the tuna already marinated from our local fishmonger, YYSeafood.  They're a husband and wife duo located in the farmers' market. They have superior cuts of fish and seafood.  They're my go-to fish shop.  The selection of poke fish includes tuna and salmon.  It's dressed in sesame and soy sauce…so darn yummy!  I've had poke bowls before but this is my first time making it at home.  I'll be making this again!
you will need
250g raw tuna, cut into bite-size chunks
cooked rice (white or brown) – rice should be warm
avocado, sliced
spring onion, sliced
small cucumber, sliced or chopped
tomatoes, chopped
fresh dill
fresh mint, chopped
method
Marinate tuna in 1 tablespoon soy sauce, 1 tablespoon sesame oil and 1 tablespoon rice vinegar. Toss together and place in the refrigerator while you prepare the other ingredients. Divide rice between bowls. Add cucumber, tomato, avocado slices and spring onion. Stir the marinated tuna before placing it atop the rice. Add fresh dill and mint.
the culinary chase's note:
Some restaurants serve the poke bowls with mayonnaise that's mixed with sriracha or top more sesame oil and black sesame seeds. You can dress however you like. Enjoy!