The humble taco has been around for several centuries.  Jump ahead to 2023 and smash burger tacos are a social media sensation.  What the heck is a smash burger?  Well, it turns out that in 2007 two guys decided to open a burger joint.  The idea was to offer high-quality burgers (never-frozen beef) smashed on the grill to create a caramelized crust. How did the smash burger taco become so popular on social media?  That's a question I do not have an answer to.  However, I am very happy someone came up with the idea!  The other day I posted about my homemade taco seasoning and confessed that I had not made tacos in a very long time.  That is, until now.  These smash burger tacos are over-the-top flippin' delicious!
you will need
454g (1 lb) ground beef
chopped lettuce
chopped tomatoes
grated cheddar cheese
special sauce (mayo, yoghurt, ketchup)
taco seasoning
4 tortillas
method
Season ground meat with one tablespoon of taco seasoning (use more if you like).  Divide meat into four balls.
Use a non-stick pan large enough to accommodate the size of the tortilla (I used a 6-inch tortilla).  Place pan over medium heat and space out the balls of meat.  Gently flatten each ball.  Place a tortilla over each ball and press down such that the meat spreads to the edges of the tortilla or as close as you can get it. Use the base of a heavy saucepan to flatten the meat if you're not comfortable using your hands.
  Allow to cook for 5 minutes before flipping over. 
Once flipped cook for one minute.  Using a spatula, remove from heat.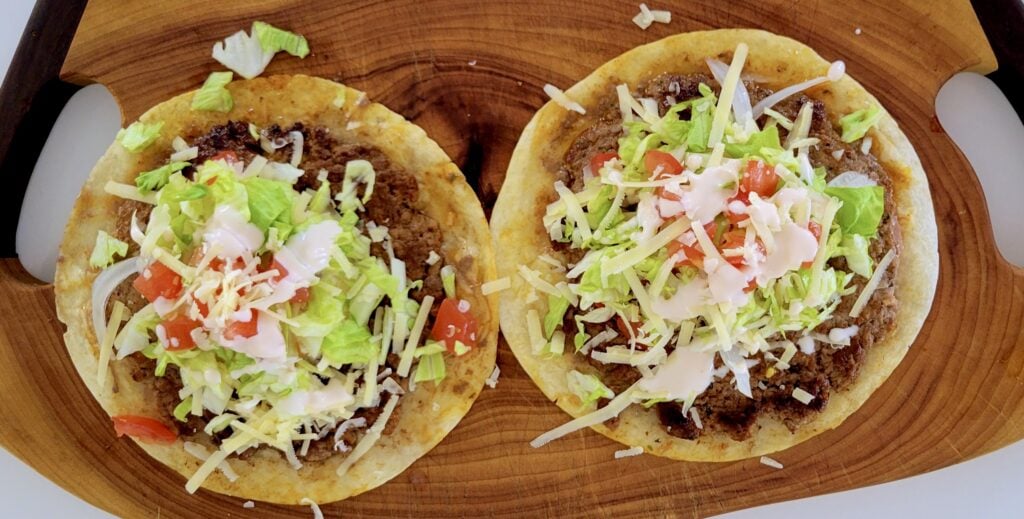 Dress the smash burger tacos with special sauce, lettuce, tomatoes, and shredded cheese.
the culinary chase's note:
I didn't have a pan large enough so I used a roasting pan. You could also use a paella pan. Enjoy!