stuffed plantain balls (rellenitos de plátano maduro)
Last week we were in Playa del Carmen for a long-overdue vacation.  And, like any vacation, I do the research on places to see and eat.  For our last day, we chose to have lunch at Mamita's Beach Club.  The restaurant was on the beach and the views were spectacular.  The setting was idyllic.  After being seated and gawking out at the beach and the sea, we ordered cocktails and appetizers.  One appetizer caught the eye of Mr. S; maduros (ripe plantain stuffed beef and pork minced meat with manchego cheese sauce).  These plantain balls were simply out of this world delicious!  After one bite, I said to my husband I was going to make these.
I recall the first time I was served a plantain dish.  The thought that a banana could be served in savoury way, appealed to my curiosity.   That was back in the early 2000s.  I've made a few dishes using the plantain but only one I ever posted on my blog.  Plantains are believed to have originated in Southeast Asia and through trade spread across India, Africa, Egypt, and tropical America.  Plantains are a type of banana that can be green, yellow, or very dark brown. Ripe plantains are best when it's mostly black with a little yellow, and still slightly firm to the touch, like when you squeeze a peach.  When cooked they become sweeter.
you will need
3 ripe plantains
1/2 cup grated cheese (mozzarella, cheddar, or havarti)
250g sausage meat (or ground pork)
1 tablespoon tomato paste
for the cheese sauce
250g manchego cheese, finely grated
1/2 cup cream
method
Pan-fry the sausage meat and break it up into small pieces. Add tomato paste and stir. Remove from heat and allow to cool.
Meanwhile, peel and cut the plantains into two or three chunks. Boil in salted water for up to 5 minutes; use a knife to test if they are soft. Remove from water, drain and let cool. Mash the plantains.
Take a generous tablespoon of the mash in your hand (more if you want the balls to be larger), place a small portion of the meat in the middle, and top with cheese.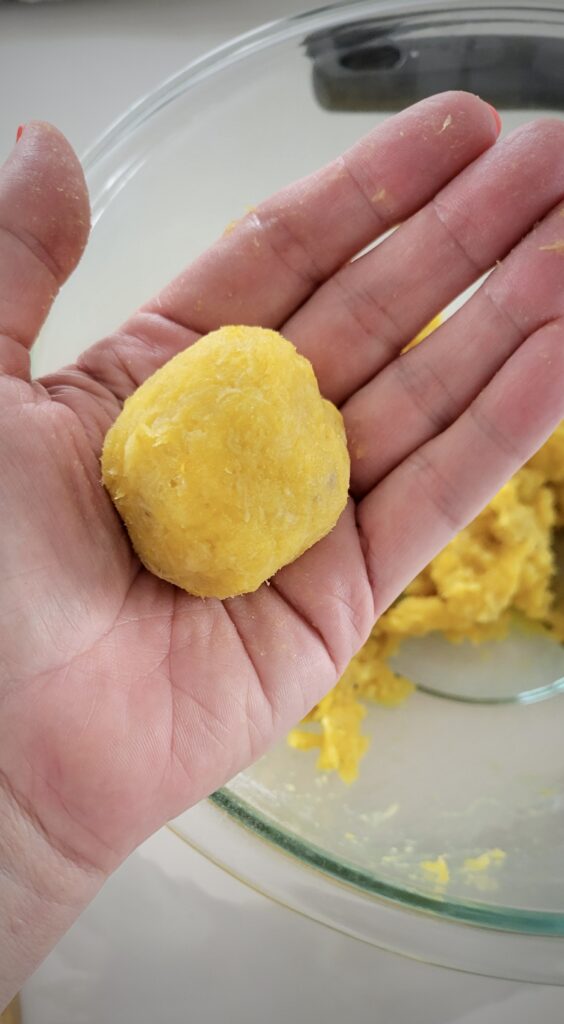 Form a ball around it.
Place three to four balls in hot oil and cook until golden brown (roughly 4 minutes). Remove from oil and place on a wire rack covered with paper towel.
To make the cheese sauce, heat cream in a pan with one tablespoon of butter. When the butter has melted, add cheese. Stir until melted. You could also make a roux and then add the cheese. This sauce won't be as creamy but saves on time.  To serve, make a pool of the cheese sauce and top with the plantain balls.
the culinary chase's note:
Plantain balls can also be stuffed with just cheese or try adding fish, chicken or beef.  Enjoy!