It's cherry season!  Plump and juicy, cherries are one of my favourite stone fruits.  The thing is, though, their shelf life is limited (5 to 7 days) and they are not cheap.  To not waste any, I usually end up making a dessert.  This time I decided to make a shrub syrup. Not familiar with the term?  A shrub is a fruit-based syrup made with equal parts fruit, sugar, and vinegar.  It's an excellent way to use up a glut of fruits from your garden.  If you have been following my Friday night cocktail hour on Instagram, you'll know I recently made a cocktail using my cherry shrub syrup.  And let me just say this, it was delicious!
The word shrub is derived from the Arabic word sharab which means to drink.  Shrubs were popular in 17th and 18th century Britain and were usually mixed in with rum or brandy.  By adding a shrub to a cocktail, it creates depth and complexity.  Shrubs are making a comeback thanks to mixologists looking to create unique cocktails.  My first attempt at making a cherry shrub produced a beautiful ruby-hued liquid and the syrup had the right amount of tart.  Similarly, you can also use my cherry shrub syrup as a base in salad dressings.
you will need
1 cup ripe cherries, pitted and sliced in half
1 cup sugar (I used turbinado)
1 cup apple cider vinegar
method
Crush or muddle cherries with sugar until juice appears.  Let sit at room temperature for two hours.  Add vinegar, and stir.  Cover and refrigerator for two days.  The macerating stage takes two days for a glorious syrup to occur. Remove from fridge.  Crush again and strain then remove the skins.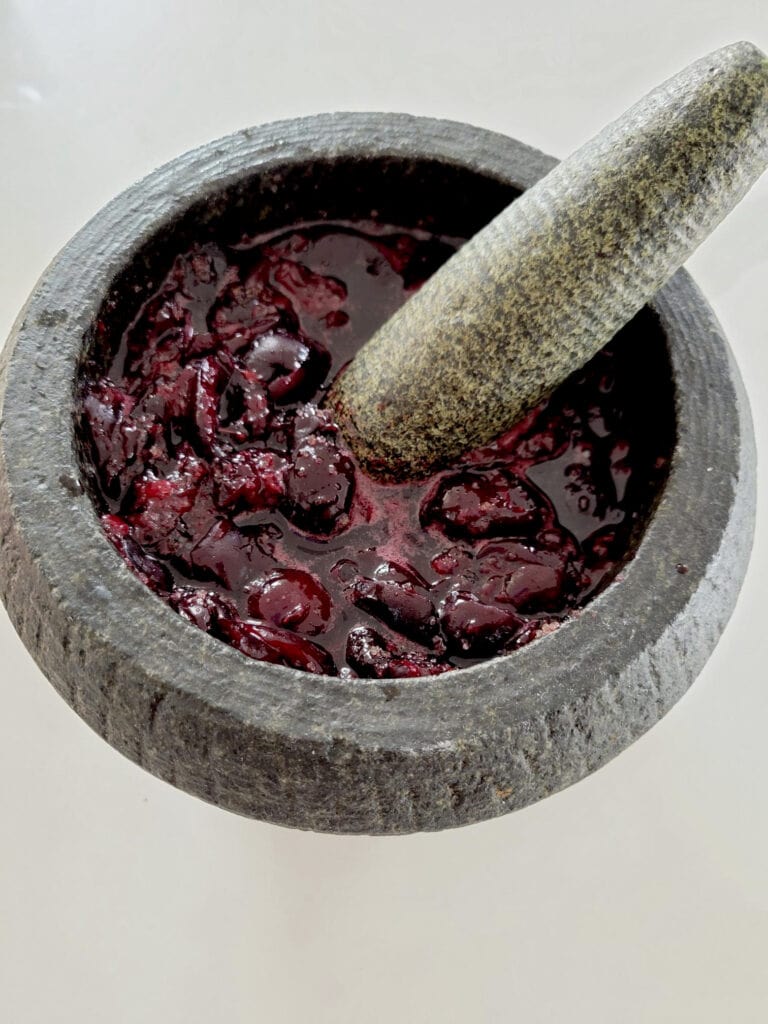 To make a cherry shrub soda, mix two tablespoons (or to taste) of the shrub syrup with one cup of soda water.
the culinary chase's note:
Save the discarded cherry skins; chop and toss into a salad.  Or, as a relish over duck, grilled steak, or chicken.  Enjoy!