poppy seed pappardelle with sage & prosciutto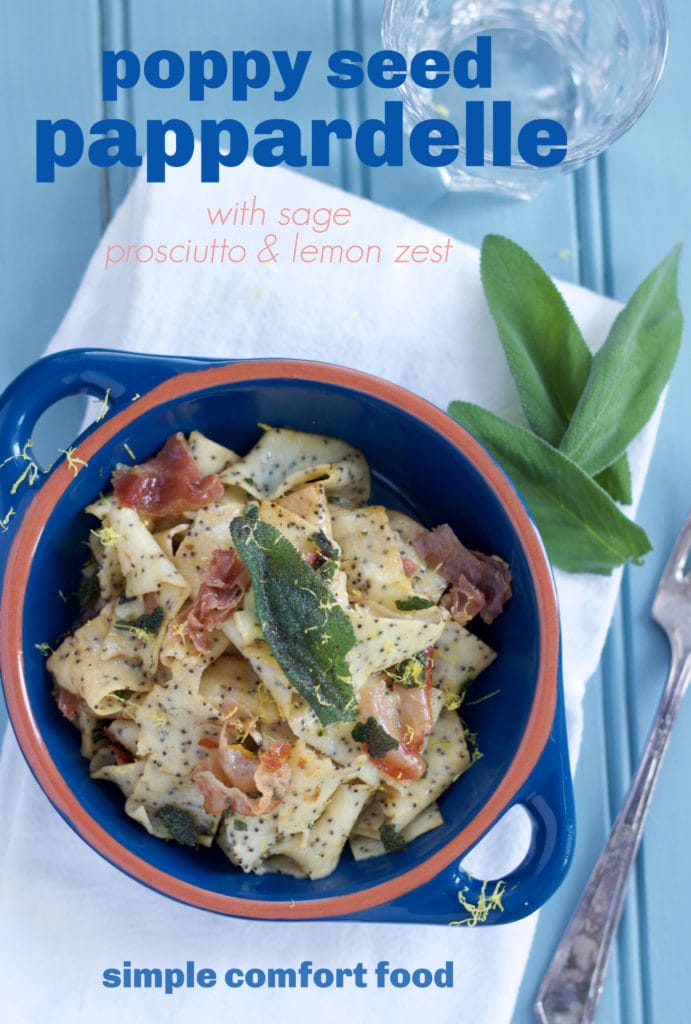 If you have eaten herbed laced pappardelle, then you're gonna love it with poppy seeds.  Making pasta is easier than you think and therapeutic, too!  Kneading the dough helps to unwind from the day and acts as a vehicle to vent any frustration.  From the time it takes to mix, knead and let the dough rest, you can have fresh pasta on the dinner table in 45 minutes.
Poppy seeds have a nutty flavour with a satisfying crunch and toasting the seeds enhances this. Add some citrus notes and poppy seeds are a smash hit!  The sauce for this dish takes about the same time as it does for the water to boil and pasta to cook.
serves 2
6 sage leaves (less if large like the ones I bought)
6 slices prosciutto
1 1/2 tablespoons poppy seeds
zest of one lemon
1/4 cup butter
splash of extra-virgin olive oil
1/2 cup grated pecorino or parmesan cheese
pappardelle:
1 cup all-purpose flour
1 large egg
To make the pasta
Mix flour and poppy seeds and place on a board or in a bowl. Make a well in the center and crack the egg into it. Using a fork, whisk egg and gradually bring the flour in from the sides. The egg mixture will be somewhat wet, put the fork aside and use the tips of your fingers to continue mixing the eggs with the flour, incorporating a little at a time, until everything is combined.
Gather into a ball and knead  (pulling it, stretching it, squashing it) until smooth and elastic.  One way to test if the dough is elastic, poke it and if it springs back you're done kneading.  Cover with plastic wrap and leave on the countertop for 30 minutes.
How to make pappardelle
Cut dough in half and squish one piece between your hands.  If the dough feels a bit sticky, lightly dust with flour and shake off any excess.  If using a pasta machine, set at its widest setting and roll the pasta dough through it.  Fold the dough into thirds and pass through the machine again.  I sometimes repeat this step two or three times before going to the next setting on the machine.  Click the machine down a setting and roll the pasta dough through again.   Work your way through all the settings on the machine, from the widest down to around the narrowest. Lightly dust both sides of the pasta with a little flour every time you run it through.  Using a knife or pizza cutter, cut into one-inch wide long strips.  Cover with plastic wrap or a tea towel until ready to use.
If making the pasta by hand, which most nonna's do, use a rolling pin. Roll small pieces of pasta rather than a few big ones. Watch 100-year-old nonna Letizia make her tagliarini pasta.  When finished rolling out pasta, cut into one-inch long strips.
Bring a large pot of salted water to a boil.  In the meantime, grab a medium-sized frying pan and melt butter over medium-high heat.  Add a good splash of olive oil and stir to combine with butter.  Add prosciutto slices and cook until golden crisp.  Remove and place on paper towel.  In the same pan, add sage leaves and cook until crisp.  Keep an eye on the sage as it can quickly turn from golden crisp to black.  Remove from pan and place on paper towel.
Assembly
Cook pasta in boiling water 2 to 3 minutes or until al dente.  While the pasta cooks heat the frying pan that was used for frying sage and prosciutto.  Add cooked pasta and use a tablespoon of the water from the pasta to help loosen up the sauce in the pan.  Use tongs to move the pasta around.  Crumble sage and prosciutto over pasta and add cheese.  Top with grated lemon zest.  Toss to combine.  Add more pasta water if needed to loosen the sauce.  Serve immediately.
The Culinary Chase's Note:  You can also use a food processor to make the dough.  Combine flour and egg and process until it forms a ball.  Cover and let rest.  Enjoy!