pesto trapanese (pesto with almonds & tomatoes)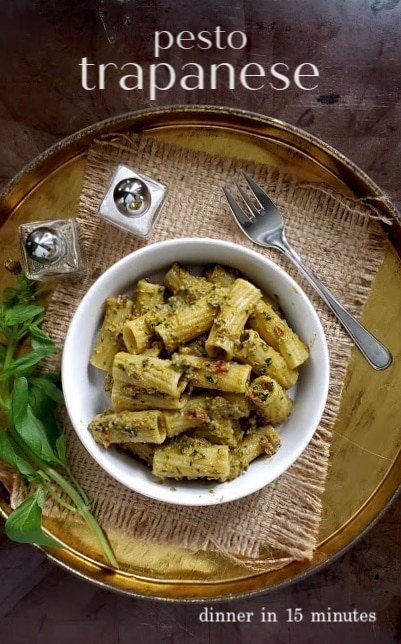 Pesto is such a versatile sauce and although perfectly suited for pasta, it's also delicious with meat, vegetables or fish.  For more uses click here.  It also reminds me of summer which is a good thing as this winter seems to be unending and it's only the middle of February!  But I digress.  Most are familiar with pesto alla genovese (the original pesto), which hails from the northern city of Genoa.  I have recently discovered another pesto that has me yearning for more. A Sicilian city called Trapani is the birthplace of pesto trapanese, an equally impressive pesto.  So what makes this pesto unique?  Almonds and tomatoes for starters.  Almonds aren't as expensive as pine nuts.  Writer Amiel Stanek said this about pine nuts:
"You have our permission to never buy pine nuts again—they're priced for hedge fund managers and, frankly, they ain't worth it. There's a whole world of tasty nuts and seeds out there that'll add the rich earthiness that you're after in your dream pesto."
He's right!  You don't need pine nuts or even basil to make a delicious pesto.  His article explains why but for my recipe, basil is used.  If you plan to use this on pasta, bring a pot of salted water to a boil and add pasta.  While the pasta cooks, make the sauce.
handful blanched whole almonds (see my cheater's note below)
handful cherry tomatoes (sliced in half and seeds squished out)
1 to 2 tablespoons chopped sun-dried tomatoes (optional)
2 big handfuls fresh basil
1 large clove of garlic, roughly chopped
finely grated pecorino or asiago cheese (about 1/4 cup)
extra-virgin olive oil
Toast almonds in a skillet until golden brown.  Remove from pan and let cool.   Toasting the almonds (or any nut for that matter) brings out their natural oils and deepens their flavour.  In a food processor, add almonds and pulse to chunky bits, finer if you like or whatever suits your fancy.  Add tomatoes, sun-dried tomatoes, basil, and garlic.  Process until well combined.  If a bit dry, add a splash of olive oil and combine.
When pasta is ready, reserve some of the water before draining.  Add pasta back to pot along with the pesto.  Toss to combine and if needed, add some of the pasta water to loosen up the pesto sauce.  Serve immediately.
The Culinary Chase's Note:  I was lazy and used roughly 1/3 cup ground almonds.  You may need to add more.  For the pasta, I used a rigatoni to allow the pesto to get inside the little tubes. You can also use short twists of pasta called casarecce to help mop up the sauce. Enjoy!