oysters and mussels (PEI's own merroir)
Oysters and mussels get their flavour from the sea much like wine gets theirs from the land (terroir).  The chefs and fishermen of Prince Edward Island are coining their own treasures from the ocean by calling it merroir (from the sea). PEI is famous for its Malpeque oysters all due to a Paris exhibition in 1900; they were judged as the world's tastiest oysters.
This is my third posting on Canada's food island.  Whilst writing this, my mind wandered back to the first full day of the media tour hosted by The Culinary Institute of Canada and Tourism Prince Edward Island.  An early morning start, we jumped in the van and drove to Raspberry Point Oyster Co. thirty-five minutes north of Charlottetown.  Once you leave Charlottetown, the rolling hills and lush farmlands open up.  Along the drive, patches and patches of red earth perfectly tilled as far as the eye can see with farmhouses perched atop hills overlooking its pastures.  A picture worthy on a postcard and forever imprinted in my mind.  It's a lovely sight and if the windows are down, you just might get a whiff of the salt air.
Our group chatted non-stop, some with group discussions and some on an individual basis.  I was sitting next to chef Ilona Daniel and found myself confessing to her that I'm not a fan of fresh oysters…cooked or smoked is how I enjoy them.  She said not to worry as there will be six different oysters on sample and she felt confident I would like one of them.  In my mind I was saying a shaky ok, we shall see sort of attitude.  It's not that I dislike fresh oysters, I just never had one that appealed to me.  I had a golden opportunity and thought if I can eat pickled chicken feet to satisfy my co-workers when I lived in Hong Kong, I think I'm up for the challenge to eat raw oysters!  Ilona spoke so passionately about the different types I was beginning to get caught up in her enthusiasm.  Once we arrived at our destination, manager James Power spoke about how oysters are grown, the different areas where they are harvested (which enhances different flavours in the meat) and how long it takes to grow before they're able to sell them.
James told our group that "PEI has the best water with just the right amount of salinity with no pollution making the oysters very clean giving a really great clean salty flavour".  When he said it takes about three to four years for the oysters to reach maturity, I was shocked.  I had no idea it took that long!  When they are ready to be harvested, they are sorted, washed and graded before being shipped around the world.  If you want to know how old the oyster is, count the lines (a similar practice to find out how old a tree is when it's cut down).  My eyes cast a quick glance over the differently named oysters and Ilona suggested I try Raspberry Point first.  It was a big one but with my oyster coach standing by I couldn't wimp out and with a little apprehension, I slurped it back.  Wow! I was totally blown away!  How could I have not liked these?  It had a rich taste, almost butter-like and a hint of the sea.  I was ready to sample them all!  Ilona asked me which one was my favourite and I had to say it was Pickle Point.  Because they grow in cages along the shoreline, algae attach to their shells giving the meat a salty sweet flavour.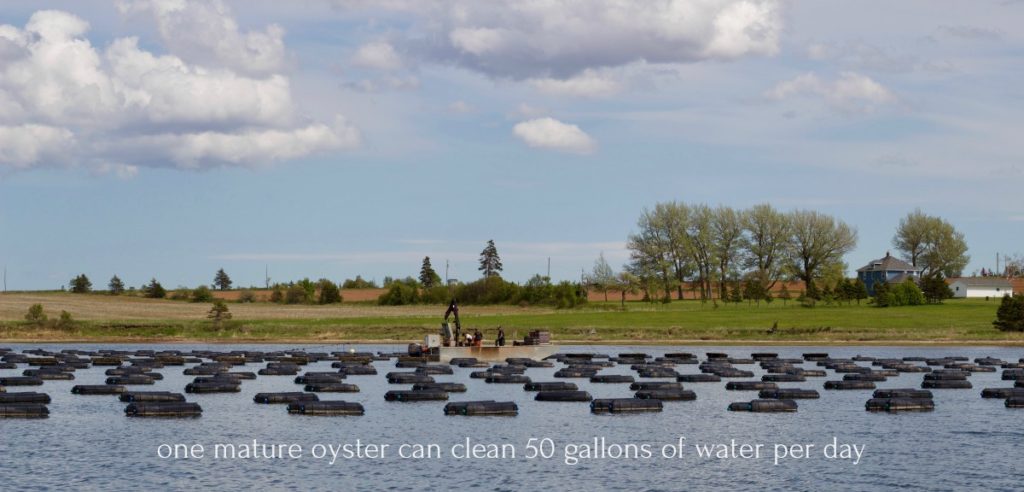 Oysters are farmed all year-long and Raspberry Point harvests eight million oysters a year. The oyster is the second most valued shellfish species grown (9 million pounds) in Prince Edward Island after the blue mussel (48 million pounds).
Next stop, PE Aqua Farms.
I have never been to a mussel processing facility and therefore had no idea what to expect.  It's quite the process from harvesting mussels from the water to the end consumer.  Cleaning, sorting, cleaning again, grading, packaging make up the operation.
Prince Edward Aqua Farms has an on-site lab and technician to provide the facility with current and immediate means of testing and maintaining quality control standards. To further ensure that the final product to the consumer is of optimum quality, the company also maintains a strict traceability process allowing them to trace every mussel from consumer to source. 
A
recently added filtration process for their waste treatment greatly reduces the amount of potentially-invasive species that leave the plant. Prince Edward Aqua Farms invested in the SC Grit Classifier treatment system in an attempt to reduce its environmental impact and footprint.  This waste recovery system is that refuse itself has value; it can be used as fertilizer by farmers and gardeners.
Mussel farming takes time, infrastructure, and a lot of hands on deck to produce the final product.  I mentioned to Jerry (general manager of PE Aqua) that I can purchase a 2lb bag of mussels for $5.  I always thought that was a good buy but even more so considering the effort involved to get them to market.  He just smiled.
The Culinary Chase's Note:  Incidentally, I found a website, Oyster Guide, and in it, there's a section on what kind of oyster eater are you?  Looking at the list, I was 'the shrinking violet' but not any more!   Thank you, chef Ilona, CIC and PEI Tourism for the re-introduction!  This just goes to show, you're never too old to enjoy something new.  Enjoy!