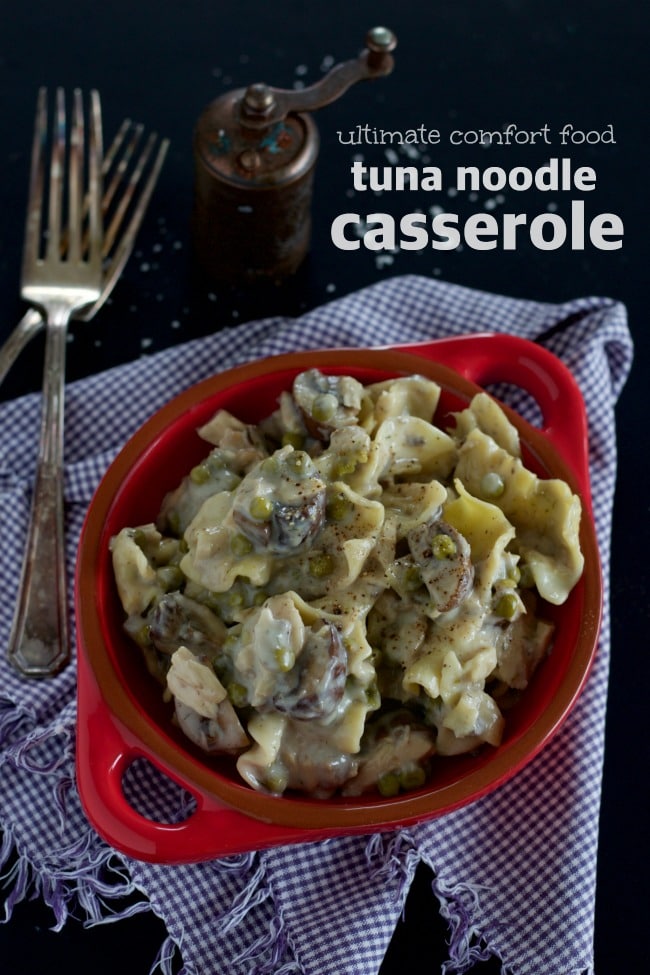 I don't know why, but of late I am drawn to nostalgia and in particular food.  This nostalgic feeling is all good and although I am not one to dwell in the past, there's something so familiar about comfort food that pulls me back to my childhood.  In the 1950s and well into the '70s casseroles were all the rage.  The classic all-time favourite casserole of the '70s was tuna noodle.  A convenient, budget-friendly and super easy meal to have on the dinner table in 35 minutes.  My paternal grandmother and my great aunt were casserole queens!  I kid you not!  Some were delicious and some were filled with veggies I wasn't enamoured with; no amount of cheese could ever mask the flavour.
Canned tuna has been around since the first world war and it's hard to believe that in the early 1900s tuna was considered "trash fish" suitable only as fertilizer.  By 1954 the US was the world's largest producer and consumer of canned tuna.  Who hasn't had a tuna sandwich or sushi?  My mom made tuna noodle casserole on a regular basis.  It was easy on the purse strings when feeding a family of six and we always felt satiated (us kids had larger-than-life appetites!).  I liked it and have made it for my family, too.  It's an easy dish to prepare and there's not a lot that can go wrong even if you've never made one.
Serves 2 to 4
1 can cream mushroom soup
3/4 cup milk
4 mushrooms, sliced or quartered (optional)
1 can small peas, drained
egg noodles
1 can tuna, drained
Preheat oven to 350f (180c).
In a small frying pan with a splash of olive oil sauté mushrooms until golden brown.  Empty the can of mushroom soup into an 8-inch by 8-inch ovenproof dish and add milk.  Stir to combine.  Add tuna, peas, mushrooms, and three to four handfuls of egg noodles.  Stir until combined and noodles are coated with soup mixture.  Cover with tin foil and bake 30 minutes or until noddles are soft.  Remove from oven and season with freshly ground black pepper.
The Culinary Chase's Note:  Make sure the noodles are well coated with the soup otherwise they will end up dry and not cooked all the way through.  I used half a can of peas as I didn't want it to end up being a pea casserole. Enjoy!
Save