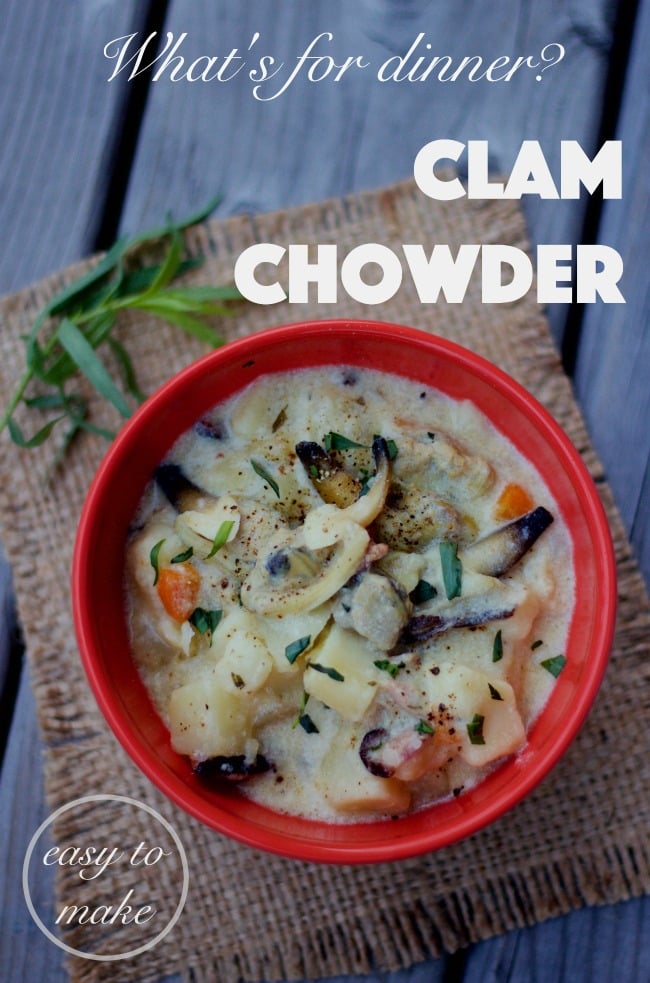 For generations, my family has made clam chowder and I continue the tradition.  I recall my pleasure of crumbling saltine crackers atop the bowl of mom's homemade clam chowder; not to thicken it up but, simply put, it was a tradition in my parents home.  The maritime autumn weather can be lovely and sunny but temperatures later in the day tend to drop off dramatically leaving me in search of a warming supper.  A chowder is simple and delicious.  It's hearty enough to satisfy one's appetite and easy on the pocketbook, too.
Traditionally I have used canned clams but for this recipe I chose fresh.  You can use any clam your fishmonger or grocery store offers.  I used steamer clams which are also known as long-neck clams or soft-shell clams.  Hard-shell clams are known as quahogs (pronounced co-hog) and referred as "little necks" (the smallest, 7 to 10 clams per pound), "cherrystones" (medium, 6 to 10 clams per pound) – both are good in a chowder.  The large quahog (2 to 3 clams per pound) can be a bit toothsome (chewy).  Personally, I find the little guys have the best flavour and taste sweeter.  Some cooks like to add flour to thicken the chowder but I mash some of the potatoes if I want a thicker consistency.

clam chowder
A chowder is simple and delicious. It's hearty enough to satisfy one's appetite and easy on the pocketbook, too.
Author:
The Culinary Chase
Ingredients
1 lb. steamer clams, rinsed
2 potatoes , peeled and cubed (roughly 2 cups)
1 to 2 slices bacon
1 onion, chopped
1 to 2 carrots, chopped
olive oil
milk
2 to 3 sprigs of fresh tarragon, leaves removed
Instructions
Heat a large stockpot or Dutch oven over medium-high heat. Add bacon and cook until golden brown. Add a splash of olive oil if pot is dry then toss in onion. Stir and cook until translucent. Add potatoes, carrots and tarragon. Stir to combine and cover with milk. Cover and allow to gently simmer 15 to 20 minutes or until potatoes are cooked.
While the chowder is simmering, grab a stockpot and place over high heat. Add one-quarter cup of liquid before adding clams. This liquid can be water, white wine, Pernod etc. You don't need much liquid to steam the clams. Cover and steam over high heat 5 to 10 minutes until the clams open up. Discard any that do not open. Remove from heat and when cool enough to handle, remove the meat from their shells and remove and discard the skin around the neck of the clam. Keep the clam juice as you'll want to use some of this for extra flavouring in the chowder. No matter how well you rinse and clean the clams there's always a bit of sediment that is released when the clams open up. When adding clam juice to chowder, pour carefully or better still, use a ladle.
When the potatoes and carrots are cooked to your liking, add the steamers to the chowder and stir. Add one-quarter cup of the clam broth to the chowder and stir. Taste and see if the chowder needs more and season to taste. Spoon into bowls and top with chopped tarragon.
The Culinary Chase's Note: 
Make sure the potatoes are well covered with milk (at least an inch above).  If you want to use canned or bottle clams instead of fresh, add clams to chowder a few minutes before veggies are cooked.  Pour in some of the clam juice from the can for added flavour.  Enjoy!