bruschetta with white anchovies
Bruschetta (pronounced bru-sketta) is a classic Italian appetizer consisting of toasted bread slices topped with fresh ripe tomatoes, fresh basil, and extra-virgin olive oil.  There are oodles of variations and I've named a few here for you to consider: smashed avocado with chopped tomatoes; zucchini goat cheese bruschetta; smoked salmon with mascarpone cheese.
Last week I bought a package of white anchovies from Hooked Halifax.  I had been searching for these for a long time and was so happy to finally get my hands on them.  White anchovies (also known as boquerones) are deboned and marinated in a vinegar and olive oil solution.  Slightly sweet with a delicate vinegar edge to them, they're silky smooth, ultra tender and are white due to the oil and vinegar pickling process.  These little guys are delicious on their own and perfect in a salad, on toast, deep-fried with garlic, and even on potato chips!  In Spain, they're served in bars as tapas.
Serves 2 to 4
white anchovies
4 or 6 cherry tomatoes
1 clove of garlic, cut in half
1 to 2 tablespoons sun-dried tomatoes, chopped
3 to 4 kalamata olives, pitted and chopped
olive oil
sea salt and freshly ground black pepper
fresh bread, sliced
Cut tomatoes into quarters and remove seeds (use your fingers or knife). Chop quartered tomatoes and place in a small bowl. Add sun-dried tomatoes, olives and a splash of olive oil. Stir to combine and season.  Grill or toast bread slices.  Rub garlic halves over warm bread.  Spoon tomato mixture over slices and top with anchovy fillets.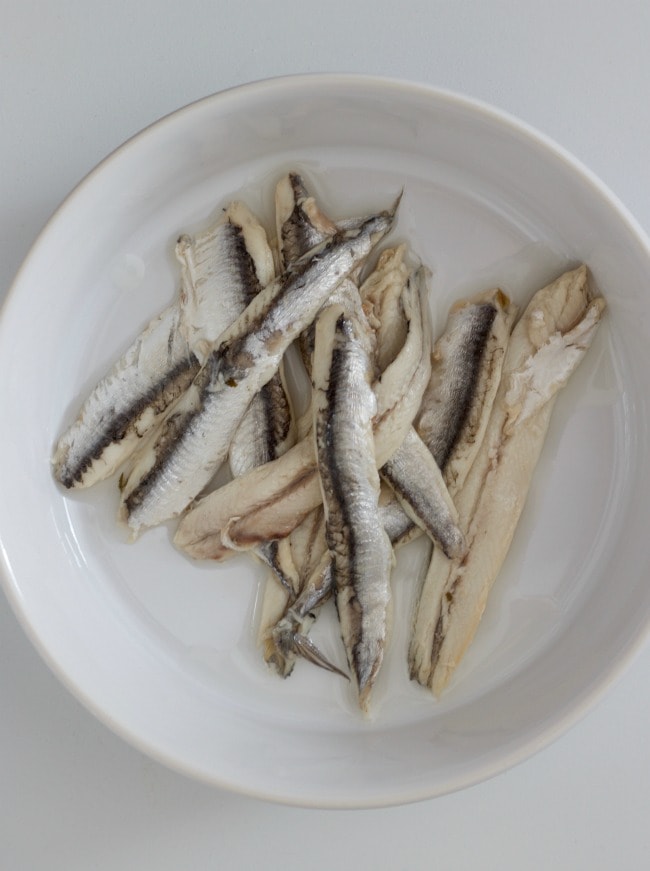 The Culinary Chase's Note:  Rubbing the bread with garlic helps perfume the slices without a heavy garlic presence.  That said, if you like garlic, chop up and add to tomato mixture.  Enjoy!