fish tacos (tacos de pescado)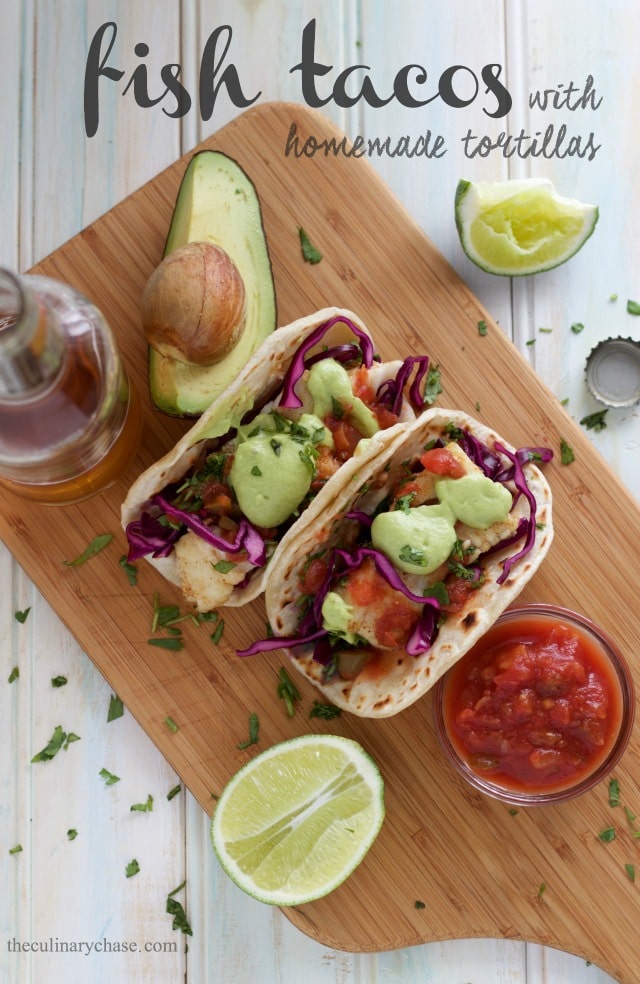 "What's for dinner?" asked Mr. S.  I said I was thinking of fish and he said good!  We haven't had fish in a while but these days with the way my memory works it was most likely only a week or so ago.  Cinco de Mayo (the 1862 victory of the Mexican militia over the French army) is just around the corner and making fish tacos seemed fitting.  A national staple and popular street food in Mexico, tacos are quick, fresh and inexpensive. 
The tortilla, usually corn based but can also be made with white flour, wraps around the filling (meat, seafood, vegetables, fish) and is loaded with favorite toppings such as sour cream, guacamole, salsa, refried beans, chopped tomato, chopped coriander, chopped lettuce.  Typically, the fish is battered and deep fried but I prefer fish fillets dusted with flour and pan fried.
Serves 4
2 lbs. firm white fish fillets such as snapper, cod, mahi mahi, or catfish
1/2 cup shredded purple cabbage
rice wine vinegar
1 large avocado
1/2 cup yogurt or sour cream
fish seasoning or favorite spice rub
olive oil
2 to 3 limes
commercial salsa sauce
Flour Tortillas-
1 1/2 cups flour, plus extra to dust
1/4 cup shortening or lard
½ tsp sea salt
1/4 to 1/2 warm water
To make the flour tortillas, mix the flour and shortening together by using a fork or pastry blender. Add salt and then slowly add most of the water. Mix with a wooden spoon until the dough starts to come together, adding the remaining water if the dough looks dry. Turn out onto a floured worskpace and knead for 4–5 minutes until smooth. Divide the dough into 12 equal size balls, cover with plastic wrap and allow to rest for 30 minutes.
Dust work surface with flour and flatten each ball with your hands. Use a rolling pin and roll into 5-inch rounds. Heat a small frying pan over high heat. Place tortilla in dry pan and cook for 45–55 seconds until small spots appear on the underside. Flip and cook for a further 30–45 seconds until the tortilla puffs up and small brown spots appear on that side also. Place in a tea towel to keep warm. Repeat with remaining tortillas.
To make an avocado sauce, purée avocado with 1/4 cup of yogurt. Add more yogurt as needed for desired thickness.  Squeeze half a lime into sauce along with a few dash of hot sauce and stir.
In a bowl add shredded cabbage and a splash of sushi rice wine vinegar – toss to combine.
On a plate add 1 cup of flour and 1 to 2 tablespoons fish seasoning and combine.  Dredge fish through flour mixture. Shake off any excess flour. In a large frying pan, heat 3 tablespoons of olive oil over medium-high heat. Add fish fillets and fry 2 to 3 minutes per side or until done. The timing for this will vary depending on how thick the fish slices are.  Cut fish into chunks to fit the size of the tortilla.
When ready to serve, create a serving station for those to help themselves.
The Culinary Chase's Note: Place cooked tortillas in a warm oven and don't worry if your tortillas aren't perfectly round, they'll taste just as good either way.  Enjoy!