Calgary – a visit to see my daughter
Whenever we travel to a new destination I always make a list of things to see and do.  It's aimed as a loose itinerary for us.  Last Thursday I arrived for the first time in Calgary to see my daughter… a surprise birthday gift from her.  When I arrived I asked her what's on the agenda for that day.  She rattled off a list and I was impressed.  Turns out all my vacation prep of years gone by has trickled down to my daughter!  She had made her list of things to do while I was there…I was chuffed.
She knows how much I enjoy a good cappuccino.  Our first stop for my java fix just a few blocks away, was at Analog 17th Avenue.  My eyes were immediately fixated on a unique-looking espresso machine.  I had never seen one before in all the coffee shops I had been in around the globe (including Italy).  Turns out these beauties are hand made in Seattle.  If I were to open a coffee shop, I'd have one of these machines – talk about eye candy for java lovers!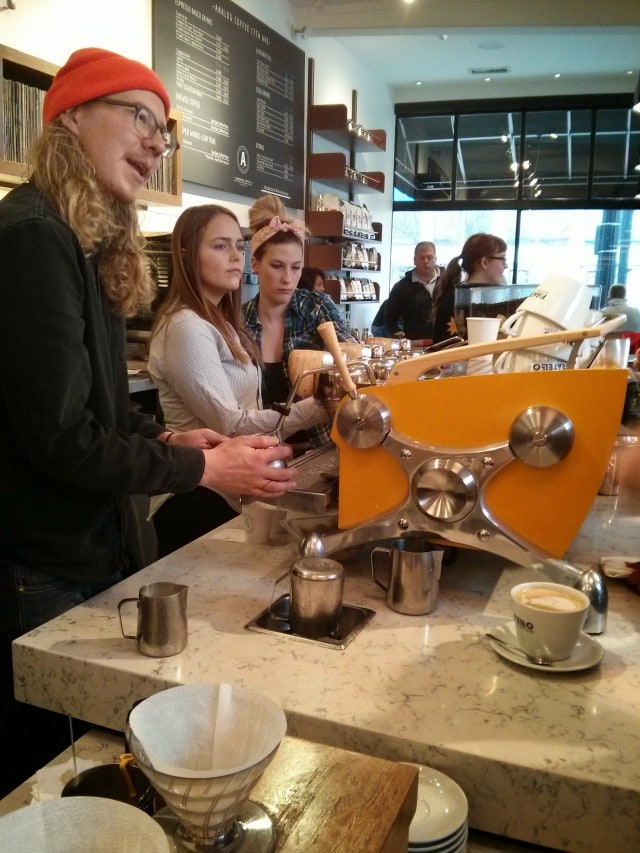 After our coffee, we strolled down 17th Avenue where Laura showed me all her favorite shops.  She usually calls me with cappuccino in hand and describes the shops as she goes.  I was now able to 'see' what she was referring to.  By this time, I was getting hungry and we stopped in at Corbeaux Bakehouse ordered a pizza al Taglio and, yes, I had another cappuccino!  With a 3 hour time difference and a 5 hour flight, I think I needed the extra caffeine. 🙂  It was time to head back to my daughter's apartment but as we passed by the dessert counter, I heard the pastries calling out my name.
While I unpacked my suitcase, we chatted.  Even though we speak to each other every week (sometimes a few times in the week), we never seem short of conversation.  I told her it felt slightly strange being at her place.  It's a bit of a role reversal, usually I would be the one picking her up at the airport and bringing her home.  I would be the one taking her for coffee, a bite to eat.  And what's more, JB (that's my husband) wasn't there with us.  Laura said it was a good thing he wasn't as she would have to say goodbye to both of us and one was hard enough (insert breaking heart here).   We chatted a bit more and then noticed the time.  Josh, Laura's boyfriend, was working late so it was just the two of us for dinner.  We went out for an Indian buffet where I was like a kid in a candy shop…so much to choose!  I think we waddled home.
Friday was off to a fabulous start with a late breakfast at Red's Diner.  It's Laura and Josh's favorite neighborhood diner and Laura was dying to take me there.  It's their go-to diner for brunch. I had their special of the day which was brie and apple stuffed French toast with blueberry hollandaise sauce.  Before you say eew, let me tell you, the blueberry hollandaise sauce rocked!
Fully satiated, we headed to Chinatown for dim sum.  So what if it was only 30 minutes from our last meal…we were eating our way through Calgary!  I had researched places to eat dim sum and the one that seemed to get the most votes was U & Me and they were right.  I love going into a Chinese restaurant and see that we're the only foreigners there.  I don't want a western version of dim sum.  Laura and I ordered enough for 4 people but we said we could bring it home and have for dinner that night.
When I took this photo of our dim sum, only half of our order was present.  We were in dim sum heaven.  Time to head home but before we did that, a pit stop for some cheese from Janice Beaton's shop.  Earlier I had picked up a bottle of prosecco and wanted a bit of cheese to accompany it.  After several tastings, we decided on 3 Alberta cheeses along with Janice's pear and rosemary jelly and her homemade crispy flatbread (perfection!).
Saturday was my birthday and Laura had planned for us to go to Banff.  It's an easy and picturesque drive from Calgary.  I took so many photos it was difficult to trim the number down.
We arrived at the base of Sulpher Mountain (elevation 2,451 m) and took the gondola up to the top.  Slightly overcast with hints of the sun trying to peak through, the views as you can well imagine, were spectacular!
Breathtaking!  My birthday was off to an outstanding start and it was only mid morning.  What did Ms. Chase have up her sleeve next?  I could not help but take in the moment on top of the mountain, 8041 feet up, breathing in the crisp clean air.
A quick bite to eat in the town of Banff and we were off to Calgary to continue the celebrations later on in the evening at Model Milk.  Laura asked me what was my favorite day and I have to say it was Saturday.  I loved seeing the mountains, a bit of the countryside, being pampered by Laura's hairdresser George, and then the finale at dinner was scrumptious.  Sorry, the only photo taken at Model Milk is this one.  The lighting was low making it difficult to take a photo without the flash going off and in a crowded restaurant, no one wants to have their ambiance affected by a flash from a camera.
The Culinary Chase's Note:  It's been 5 months since Laura moved to Calgary and the last time I hugged her.  I definitely had mixed feelings when it came time to leave.  I hope the time in between visits won't be that long again.  Thank you MP for all your planning, chats, coffee dates, laughter and a couple of scary moments driving 🙂 – just kidding!  But seriously, you made your momma feel very special.  XO