Wine Tasting in Nova Scotia
All it took was an invitation from Domaine de Grand Pré to join them for their annual barrel tasting to spur us into action and take a mini vacation – it's an easy one hour drive north of home.  It's been a while since we had a 'real' vacation and this was just what we needed (a change is as good as a rest).  Wineries began popping up in the early 1980s and since then wine making in Nova Scotia just keeps getting better.  There are 24 wineries (most are within a couple of hours drive from Halifax) allowing for a good mix of wine tasting in Nova Scotia.  And, what's more, some of these wineries are branching out, offering a place not only to taste wines but to also enjoy a bite to eat.  You'll find top notch chefs churning out sumptuous food enhanced by a glass of wine making it a winning combination for foodies and oenophiles.   Some of our best dining experiences have been in wineries where the food is as delicious as the wine.
We decided to stay the night which allowed us to fully enjoy the evening of wine tasting without the worry of driving back home.  There are tour companies that will shuttle you from one winery to the next.  If you're in Wolfville, try the Magic Winery Bus or from Halifax book a tour with Grape Escapes.  Did you know that Nova Scotia and Bordeaux, France have approximately the same latitude?
Our afternoon saw us eating and sipping wine at Luckett Vineyards on their Crush Pad Bistro.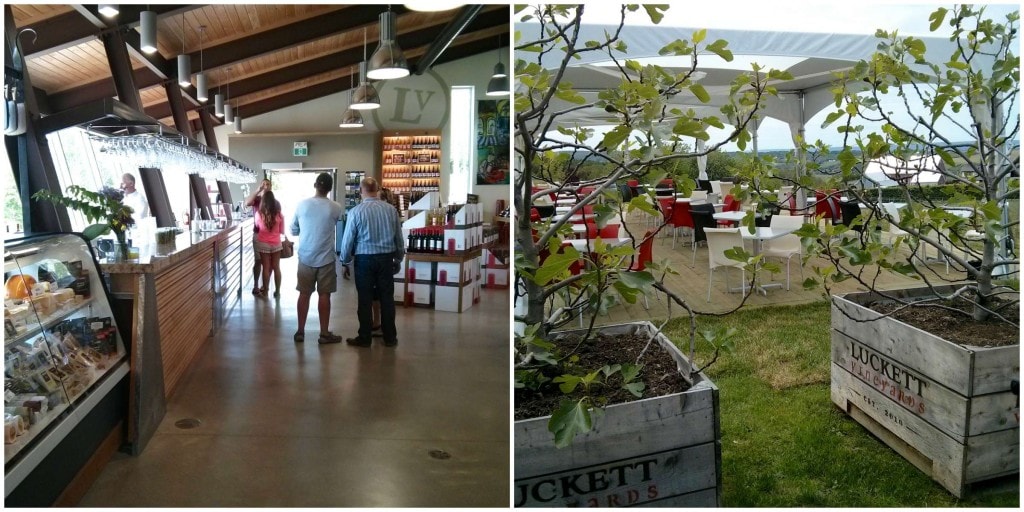 It's the only place I know where you'll find a phone booth in the middle of a vineyard and you can call anywhere in North America for free.
Stunning views over Blomidon and the Minas Basin.
After a most enjoyable lunch, we dropped by the Tangled Garden and purchased some of their jellies and rhubarb blush liqueur.
You know you're in the country when you smell these guys before you see them!
A short rest was all that was needed to recharge the batteries and we were on our way to taste the new wines from the barrels at Domaine De Grand Pré.
Jurg guided us through the new vintages and new releases.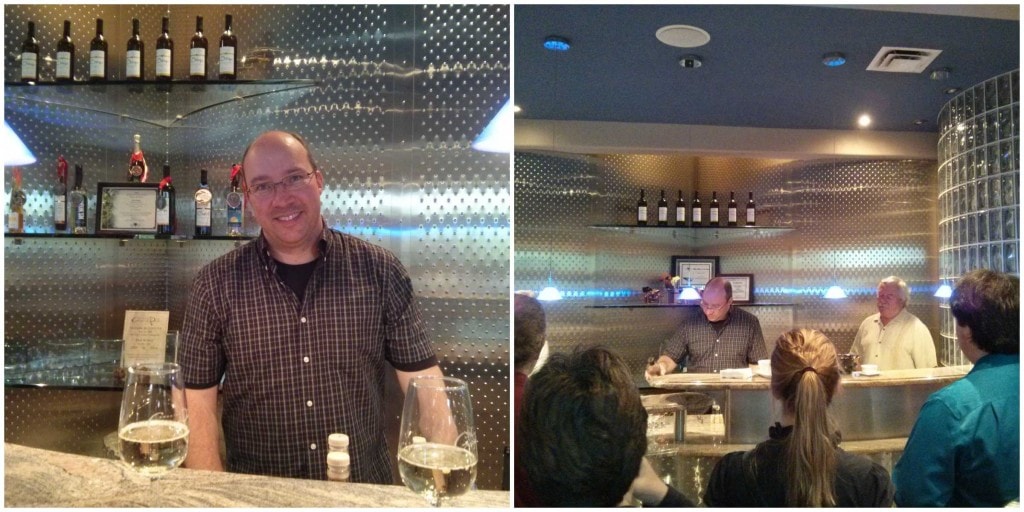 With their new Riesling icewine still fresh on our taste buds, we left the wine tasting and walked next door to Le Caveau for dinner.  We have eaten here on a few occasions and the food is always amazing.  Our day away was sublime.
The Culinary Chase's Note:  Getting away for the night was what the doctor ordered and in turn we were able to support local communities which pleased us.  Be a tourist in your own backyard – the rewards are enormous.