This is such an easy, no fuss, and delicious dessert to make. Grilled pineapple can be served on its own, with ice cream or a dollop of yogurt.  I've been grilling pineapple for years and it's always a crowd pleaser.  I have been asked before how to pick a ripe pineapple.  When we lived in Asia fresh pineapple was never an issue but if you don't live near a plantation, it can be a hit and miss.  Because ripening stops once it has been harvested, the best way to choose is buy fresh-looking pineapples with green leaves and a firm shell.  If you're planning to eat the pineapple within a few days, store at room temperature otherwise place in the refrigerator and it will keep a bit longer.  Grilling makes the pineapple sweeter and with it covered in sugar you end up with a caramelized flavor coming through.  Yum!
Serves 4 to 6
1 pineapple – peeled, cored and cut into wedges
2 teaspoons cinnamon
1 cup brown sugar
pinch of ground cardamom (optional)
vanilla ice cream
handful of mint leaves, chopped (chiffonade)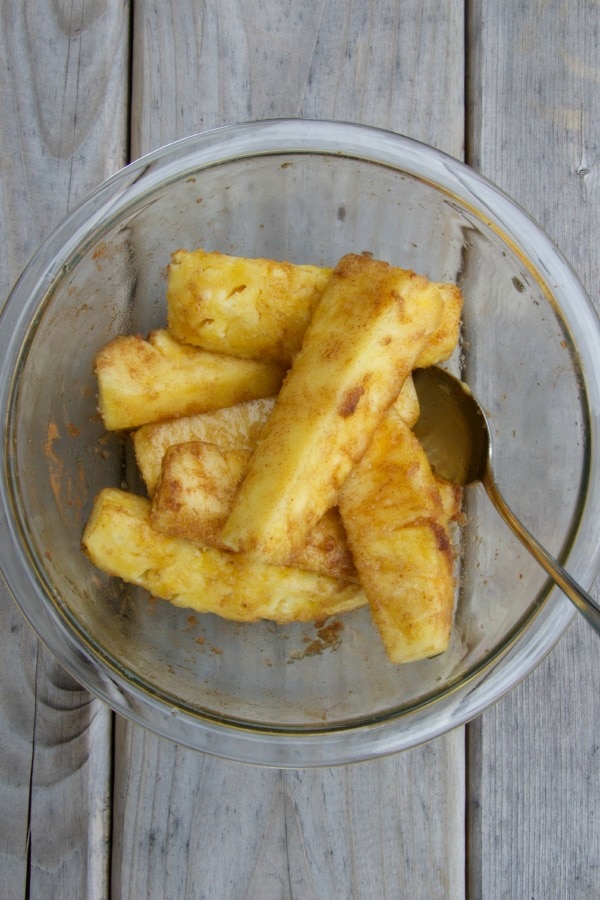 In a bowl toss pineapple wedges with cinnamon, brown sugar and cardamom.  Allow to sit at room temperature for at least 30 minutes, stirring occasionally.  Preheat a barbeque over medium-high heat and lightly oil the grate.  Make sure the grates are clean otherwise the pineapple will pick up the flavors of the last time it was used.  Grill pineapple wedges until heated through, 3 to 5 minutes per side.  Serve with a scoop of vanilla ice cream, spoon over some of the pineapple juice and sprinkle with mint.

The Culinary Chase's Note:  The longer the pineapple sits, the more juice it makes.  For sheer decadence, melt dark chocolate and pour over using a spoon.  Enjoy!