Smashed Potato Cakes with Watercress and Mascarpone
My husband loves his spuds but I can go a long time without eating one.  Over the years I seemed to have drifted away from this starchy, tuberous crop.  Don't get me wrong, I love mashed potatoes with gravy from a good roast, french fries, potato chips or when I make gnocchi…I just don't share the same enthusiasm as my husband.  A 28 oz. bag of potatoes can last well over two months in our house.  And when John asked for potatoes the other night, this dish satisfied his craving and allowed me to try something new. 
Baked potato, or jacket potato as my husband and mother in-law would call it (must be an English thing), is a great way to keep the nutrients locked in while cooking.   What I like about this recipe besides the awesome flavors is that the binding agent used here is the cheese.  Unlike other potato cake recipes which call for flour and egg, the mascarpone helps to hold the potatoes together.  These cakes finish off quite nicely with a hint of sweet and creaminess coming from the mascarpone highlighted by peppery tones from the arugula (the same if you use watercress).
Serves 8
adapted from Fine Cooking
1-1/4 to 1-1/2 lb. medium Yukon Gold potatoes
sea salt
5 tablespoons extra-virgin olive oil; more for the baking sheet
1 large yellow onion, cut into 1/4-inch dice
2 medium cloves garlic, minced
1/2 lb. watercress, leaves only
1/2 cup mascarpone
freshly ground black pepper
Preheat the oven to 190c (375f). Scrub the potatoes and pat them dry.  Place potatoes on the center rack and bake until tender when poked with a skewer, 40 to 50 minutes. Remove from the oven and set aside until cool enough to handle. While the potatoes are cooling, heat 2 tablespoons of the olive oil in a 12-inch skillet over medium heat. Add the onion and a pinch of salt and cook, stirring often, until softened, about 5 minutes. Add the garlic and cook for 1 minute, then add the watercress. Season to taste with salt and pepper and cook, stirring, just until the watercress wilts, 1 to 2 minutes.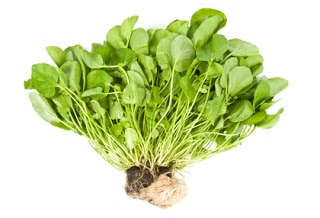 hydroponic watercress – better taste
Put the potatoes in a large bowl and break them into small chunks with a spoon or with your fingers if cool enough to handle. Add the watercress mixture and the mascarpone, mix to combine, and season to taste with salt and pepper. Divide and shape the potato mixture into 16 equal patties, about 2 inches in diameter and ½ inch thick. (The cakes can be made to this point up to 4 hours ahead and refrigerated.) 
Heat the oven to 95c (200f). Lightly oil a rimmed baking sheet. Heat the remaining 3 tablespoons olive oil in a 12-inch nonstick skillet over medium heat. Working in 2 batches, cook the potato cakes until golden on both sides, 3 to 4 minutes per side. Transfer each batch to the baking sheet, season lightly with salt, and keep warm in the oven for up to 30 minutes before serving.
The Culinary Chase's Note:  Oh my goodness…these cakes were so de-lish! If you cannot find watercress as was in my case, substitute with rocket (arugula) or if that's not available or doesn't look good try Italian parsley.   This is definitely on the repeat list!  Enjoy!