Entertaining is fun or at least that's my view but for some, though, it can be a dreaded task.  Why?  The 'idea' of having friends over for a bite to eat is simple enough until one starts to 'think' about what to serve, the timing, and execution of each dish.  I believe that when you invite friends over for dinner it's a social gathering where conversation flows regardless of what's served.  Remember, they come to see you, not what's on the table, or how your home looks.  I think hostesses put way too much pressure on themselves and in doing so empty all the fun and love out of the planning process. 
If you're new to entertaining then start slow.  Instead of organizing a sit down meal, why not plan on a cocktail party.  It's a fun way to host a party, a good way to see if you want to repeat it, and is stress-free (you get them to serve themselves).  Have food stations set out in different areas of your home to encourage your guests to move about.  Don't worry about not enough serving trays; use an old glass picture frame, cutting board, cookie tin lid, piece of slate or mirror. Next, figure out how many appetizers to serve.  Depending on the heartiness of each appetizer, I like to plan on 6 to 8 per person for a 2-hour period.  Remember, you're not feeding them dinner you're throwing a cocktail party outside of typical meal hours.  Now for the fun part – what to serve.  Make a list of hors d'oeuvres you've had in the past that you like and go from there.  When deciding on what you'd like to serve, keep in mind that finger food shouldn't be cumbersome.  Your guests should be able to consume the hors d'oeuvres with one or two bites and with ease.  Nothing bugs me more when the food fights back or worse, lands on the floor!  Try my 3 easy appetizers…they will not disappoint.
Goat Cheese Balls (with 4 toppings)
300g soft goat cheese
1 garlic clove, minced
chopped spicy cashews
smoked paprika
Dukkah
chopped chives
In a bowl combine goat cheese with minced garlic.  If the mixture seems too dry, add a teaspoon of olive oil and mix.  Roll into bite-size balls then roll into toppings.  Place cheese balls on a parchment-lined tray and refrigerate.  Remove from fridge 15 minutes before guests arrive.
Marinated Mixed Olives
assorted olives (pitted) or 3 separate jars of olives
olive oil
2 garlic cloves, thinly sliced
zest of 1 lemon
zest of 1 orange
1 anchovy fillet (packed in oil)
1 to 2 tablespoons of capers, rinsed
In a small pot over low heat add half a cup of olive oil, anchovy fillet, zest of lemon and orange and garlic. Simmer until anchovy starts to dissolve. Remove from heat and allow to cool to room temperature. With olives in a bowl, add olive oil mixture to the olives. Top up with extra-virgin olive oil and refrigerate until ready to use. Allow olives to come to room temperature before serving.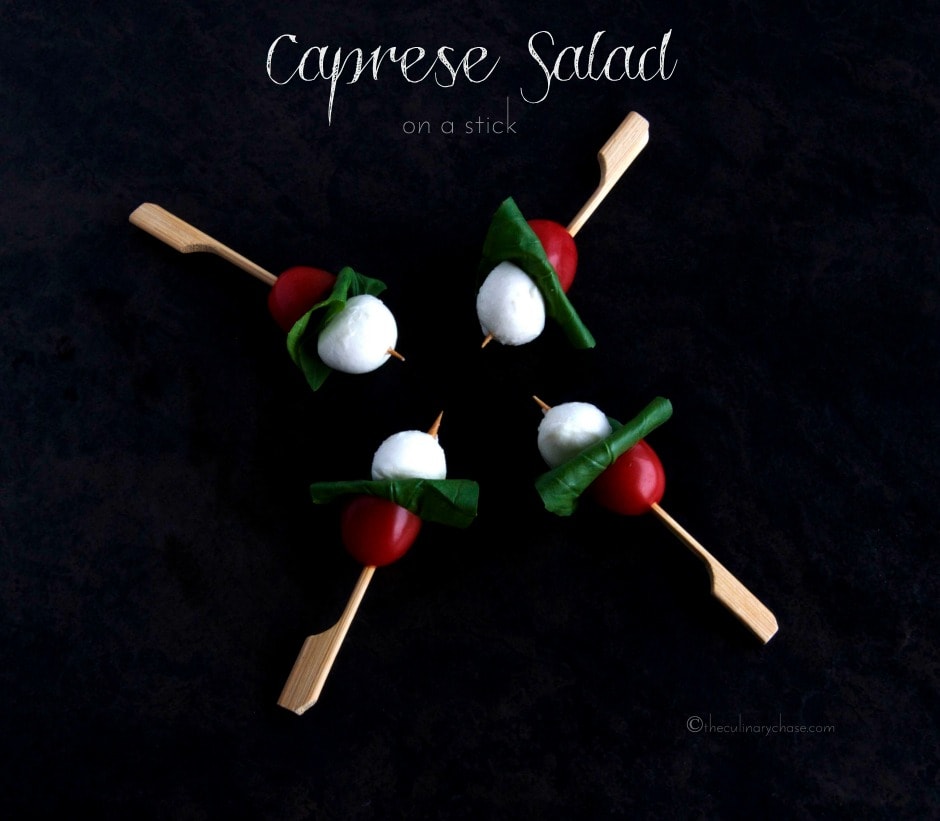 Caprese Salad on a Stick
bocconcini balls (mini)
cherry or grape tomatoes, cut in half
fresh basil leaves
Skewer tomato first followed by a basil leaf and topped with bocconcini ball. If the bail leaf is large, fold it in half. Place in fridge until ready to serve.
The Culinary Chase's Note: You can also use pretzel sticks for the goat cheese balls or serve in fillo shells.  Next time I'm going to add grated Parmesan to the cheese balls for added cheesiness and texture. Olives marinated tend to mellow in flavor so even those who profess not to like olives will be pleasantly surprised.  Buying pitted olives will not only make it easier for your guests to eat, they won't need to look for a place to dispose of the pit.  Enjoy!

Printer Friendly