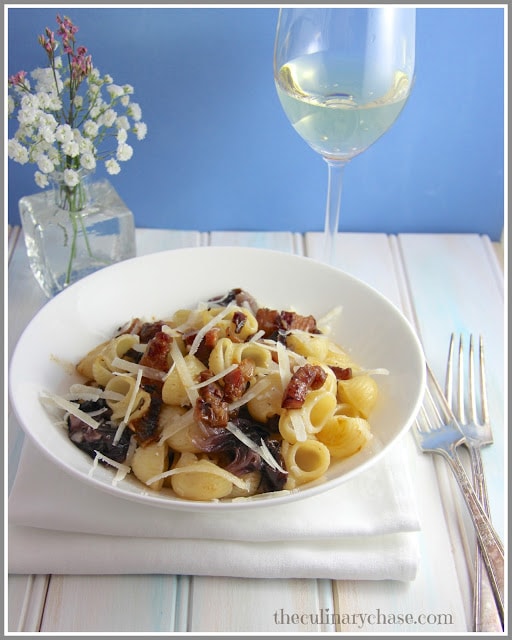 Bacon lovers take heed as this dish will knock your socks off!  Braised anything in my books is a good thing with mouth-watering aromas filling the kitchen as the food is cooking.  Braising the pork belly means fork tender deliciousness.  What's the difference between pork belly, bacon and pancetta?  Bacon and pancetta are made from pork belly and both are cured for a period of time.  Bacon and pancetta are raw meats and therefore need to be cooked.  Salting is the simplest form of curing but spices and other aromatics are added to the pancetta for flavor.  Bacon goes one step further and is smoked after its been cured (cold-smoking process).
Serves 4
adapted from Australian Gourmet Traveller
60ml (¼ cup) extra-virgin olive oil
900g (about 2 lbs.) pork belly, cut into 2cm pieces
1 onion, coarsely chopped
2 cloves garlic, finely chopped
80g pancetta, coarsely chopped
125ml (½ cup) white vermouth (you can also use white wine)
1 radicchio, tough outside leaves discarded, cut into wedges
300g dried conchiglie (medium-size pasta shells)
Parmesan, grated
Preheat oven to 160c (320f). Heat 1 tablespoon olive oil in a large heatproof casserole, add pork and cook over high heat for 5 minutes or until browned. Transfer pork to a plate. You may need to drain off some of the pork fat.  Add onion, garlic and pancetta to casserole and cook over medium heat for 6 minutes or until onion is tender. Return pork to casserole and add vermouth. Cover and roast for 1½ hours.
Heat remaining olive oil in a large frying pan, add radicchio and cook, turning occasionally, over medium heat for 4-5 minutes. Remove lid from casserole, add radicchio and cook, covered, for 30 minutes or until tender. Season to taste. Add conchiglie in a large saucepan of boiling salted water until al dente, drain and return to pan. Add pork mixture, toss to combine and serve scattered with grated Parmesan.
The Culinary Chase's Note:  Amazing flavors from this dish will have your taste buds standing at attention!  The radicchio was tender and silky-tasting while the onions were beautifully caramelized.   This is destined to become a family favorite.  Enjoy!

Printer Friendly