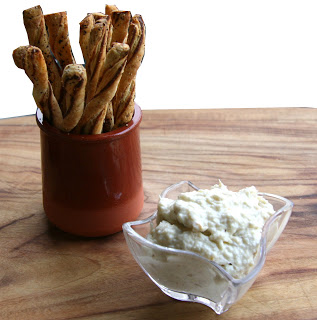 I've been on a bit of a fennel kick of late and am very happy to have found this recipe! The flavors here are awesome and while fennel has a distinctive licorice taste, roasting the fennel in the oven mellows the flavors. Fennel is a good source of fibre, vitamin C, folate and potassium. In some countries fennel seeds are chewed to stimulate digestion and to freshen the breath. Fennel is most prominently featured in Italian cuisine, where bulbs and fronds appears both raw and cooked in side dishes, salads, pastas, and risottos. Fennel seed is a common ingredient in Italian sausages and meatballs and northern European rye breads.
Makes 1 Cup
recipe from Super Food Ideas
2 small fennel bulbs, trimmed and sliced
1 small brown onion, sliced
2 garlic cloves, peeled
1 1/2 tablespoons olive oil
2 teaspoons fennel seeds
1 1/2 tablespoons grated Parmesan cheese
2 tablespoons lemon juice
1/2 cup light sour cream
Preheat oven to 200c/180c fan forced. Combine fennel slices, onion, garlic and one tablespoon oil in a roasting pan. Roast, covered, for 35-40 minutes or until soft. Meanwhile, spread fennel seeds on a baking tray and roast 5-10 minutes or until fragrant. Set aside.
Transfer fennel mixture to a processor. Add cheese, lemon juice, sour cream, two thirds of the fennel seeds and 1 tablespoons of cold water. Process until smooth, adding more water if necessary. Season with salt and pepper. Transfer to a bowl and top with remaining oil and fennel seeds. Serve with crostini or crackers.
The Culinary Chase's Note: I roasted the fennel without covering it as I wanted a bit of color. Watch the amounts of lemon juice as I ended up only using one tablespoon and no water. I had some dip left over and used it in a pasta dish (very yummy!). You could also get away with not adding the sour cream so experiment a bit! Cheers!

Printer Friendly